Tratamiento de bebidas
La afición mundial por las bebidas aumenta sin parar: refrescos, zumos, agua embotellada, café, té, cerveza, sidra, vinos, etc. La producción eficaz de bebidas pasa por sacar el máximo partido de las materias primas y por conservar las características deseadas del producto, algo que requiere un procesado multifase seguro, sostenible y barato. Alfa Laval ofrece módulos y líneas de procesado integrales configuradas para cubrir las necesidades específicas de cada empresa cervecera y productor.
Related applications
Related products
Related services
All
Air heat exchangers
Automation
Brewery solutions
Centrifugal separators
Control valves
Filling solutions
Filters and strainers
Fittings
In-line valves
Instrumentation
Membranes
Mixing equipment
Plate heat exchangers
Pumps
Scraped surface heat exchangers
Seat valves
Tank cleaning equipment
Tank equipment
Thermal solutions
Tubes
Tubular heat exchangers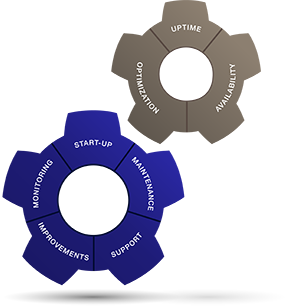 Nuestra red global de servicios incluye especialistas con una amplia experiencia en su sector. Estos podrán ofrecerle su ayuda sobre repuestos, así como su experiencia, cuando los necesite y con independencia de dónde se encuentre.
La Gama de servicios 360º de Alfa Laval responde a todas sus necesidades a lo largo del ciclo de vida útil de sus equipos (desde su fase de puesta en marcha, pasando por el mantenimiento y el soporte, hasta las mejoras en los servicios de monitorización) para lograr el tiempo máximo de actividad, disponibilidad y optimización.
Al minimizar el coste total de compra, le ayudamos a mantenerse por delante de la competencia.
Más información sobre nuestra oferta de servicios
---
A la vanguardia de la producción y la innovación en bebidas
Las empresas cerveceras y de procesado de bebidas afrontan numerosos retos. Aunque el coste de la materia prima, los ingredientes y la producción aumenta sin cesar, deben seguir ofreciendo bebidas apetecibles y a bajo precio a consumidores cada vez más exigentes.
Pero además, deben cumplir con las estrictas normas impuestas sobre sus productos, con el fin de reducir el impacto medioambiental y su entorno de producción.
Los equipos y soluciones de procesado de bebidas de Alfa Laval ayudan a superar estos retos al reducir los costes de la producción y el consumo de energía, agua y otros servicios, y al ofrecer niveles de higiene excepcionales.
Nuestros equipos y soluciones garantizan una producción higiénica y una eficaz limpieza-in-situ (CIP) de las líneas de producción, cumpliendo así con las normas higiénicas más rigurosas.
Y no menos importante, Alfa Laval le permite:
Aumentar los niveles de producción y mantener largos tiempos de funcionamiento gracias a su alta disponibilidad y periodos de actividad
Reducir la pérdida de ingredientes y productos aprovechando mejor las materias primas
Reducir el consumo de recursos como agua y energía y el reciclado de flujos de residuos.
Nuestra más reciente gama de separadoras, por ejemplo, reduce el consumo energético un 30%. Utilizar la bomba de Alfa Laval más adecuada para sus necesidades específicas de transformación puede reducir el consumo energético hasta un 50%.
Beer recovery
Through an Alfa Laval microfiltration system, Oettinger Brewery has been able to recover 20-25 thousand hectoliters of beer from harvested yeast and reduce CO2 emissions.
Newsletter near
Para estar informado sobre cuestiones de sostenibilidad importantes y oportunidades relacionadas con su sector y actividad.
Colección diez buenos consejos
Request information for Tratamiento de bebidas